Let NORAH do the talking
Whether you're interested in Norfolk's maritime heritage, medieval treasures in the archives or the history of Eccles church, there's something for your group on the talks list. Our speakers are either trustees of NORAH or volunteers offering their time to NORAH. Furthermore, they are experts in their field of interest and are wanting to share and engage with anyone interested in Norfolk's past.
NORAH in Cromer
In September 2017, NORAH trustee David Stannard delivered an evening talk to the Friends of Cromer Museum. Spoyl'd by the Rage of the Sea, was a brief history of North Sea storms and their devastating effects. The talk concluded with a review of the many organisations and institutions created by coastal communities to mitigate the impact of these events.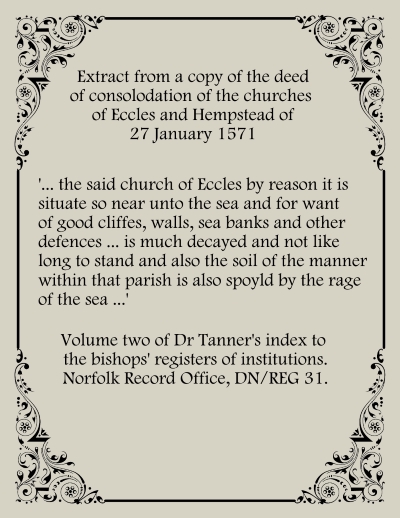 David's interest in this subject is linked to his research into the history of Eccles next the Sea and its relationship to the sea.
Peter Stibbons, Chairman of the Friends of Cromer Museum commented, 'This talk provided us with an excellent start, both in the way of numbers attending and the subject matter for our first talk of the autumn/winter series. As well as demonstrating the depth of David's investigations into the storms affecting our coast over the last 1,000 years, it opened up a range of new thoughts on how and why these storms occur."
NORAH was delighted to receive the continued support from the Friends of Cromer Museum and to work with them to promote Norfolk's heritage.
Find out more
All speakers on the register give their time for free, but ask for a donation to be made to support the work of NORAH. For more details about the Talks and Speakers Register, or to request a talk, please see the NORAH website.